And Session (in progress)

and : censer in Wolof ; refers also to a pedestal

Atelier Ndokette are currently in residency at the

Cité Internationale des Arts

, thanks to

ellipse art project

's endowment fund, where we are working in the continuity of Ndokette Session.

Our first body of work is a photographic series entitled Ndokette Session (2019). This series was born out of our curiosity about Ndokette, the dress itself. Crossing so many zones and regions, this tunic has reflected a multitude of functions and histories.
Ndokette Session presents
an appreciation of our already known multiple and complex reality, as we imagine new connections through clothing and fabrics.
It's drawing inspiration from our reality to tell dreams.
Working with the artisans
and fabrics revealed many memories and a deeper interest. We traced the material, the know-how, the places, and emotions.
Among those objects a very specific hand-woven cotton fabric caught our attention and resonated with us. It then became the blank page through which we made the link between the Ndokette Session and the And Session.
It is known as "rabbal" in Wolof or "sëru jare" or "leepi" in Pulaar.

The leepi is known for its use in clothing and accessories making, for ceremonies as well as for moments of rituals and exchanges between individuals and families.

Having grown up with this fabric, it was always present around us and we've been having an unconscious conversation with it. We have seen them being used for different outfits and occasions. So these materials hold their own stories and memories. They constitute the archives and links between moments and thus provide information about certain contexts.
We want to approach them in a way that inscribes our own stories.

By exploring what is intrinsically contained in the materials, we give them the attention they require.
The materials (fabrics) we used to make our costumes become our support and receive the images they inspired.

YUUXUL ("crie" en wolof) fait référence par sa forme aux tablettes d'écriture en bois. Emblème de transmission de savoirs, ces-dernières ont une place centrale dans cette installation. Ainsi, elles sont marqueurs d'une temporalité qui dépasse les périodicités : les temps ne deviennent plus qu'un.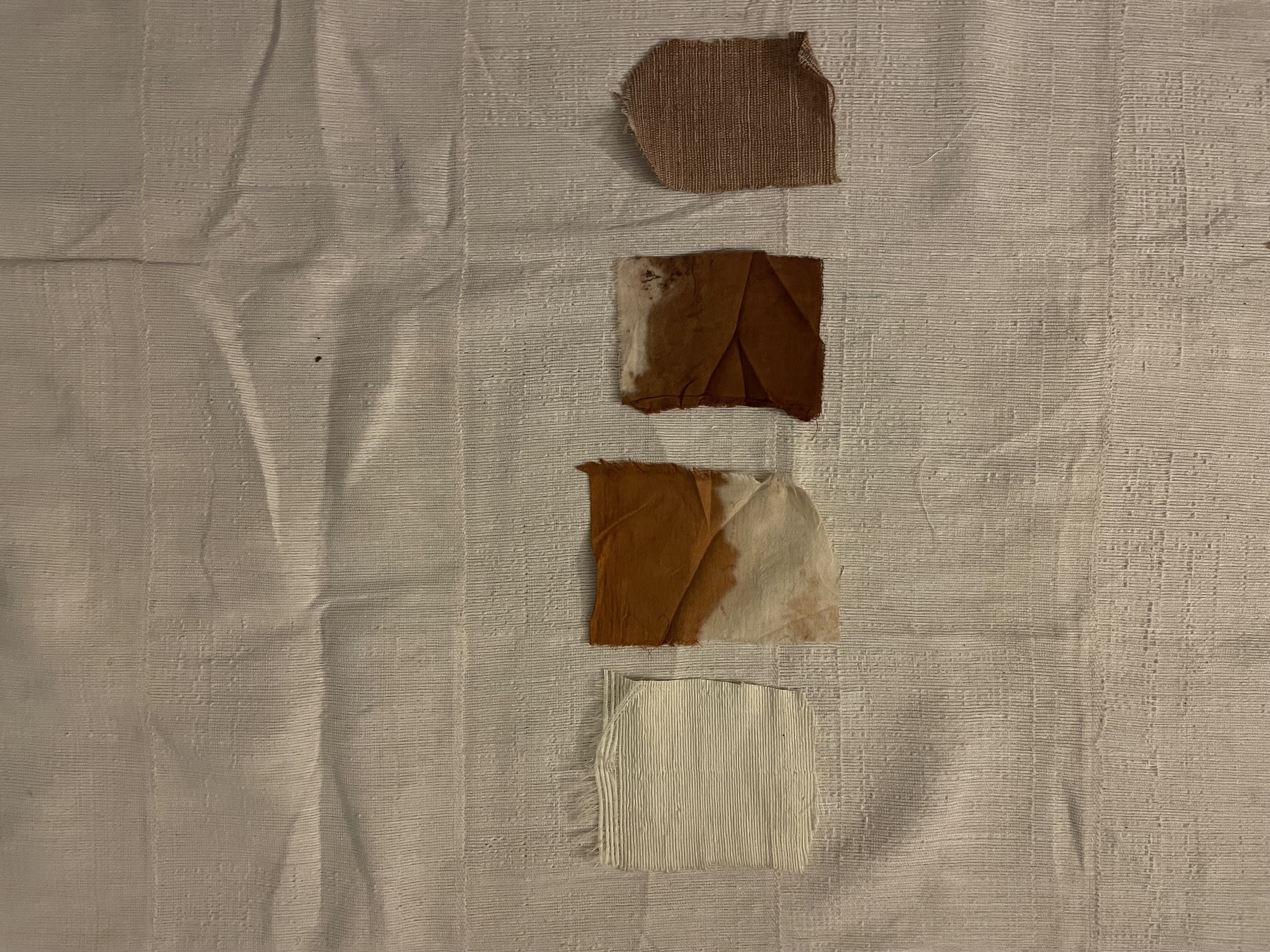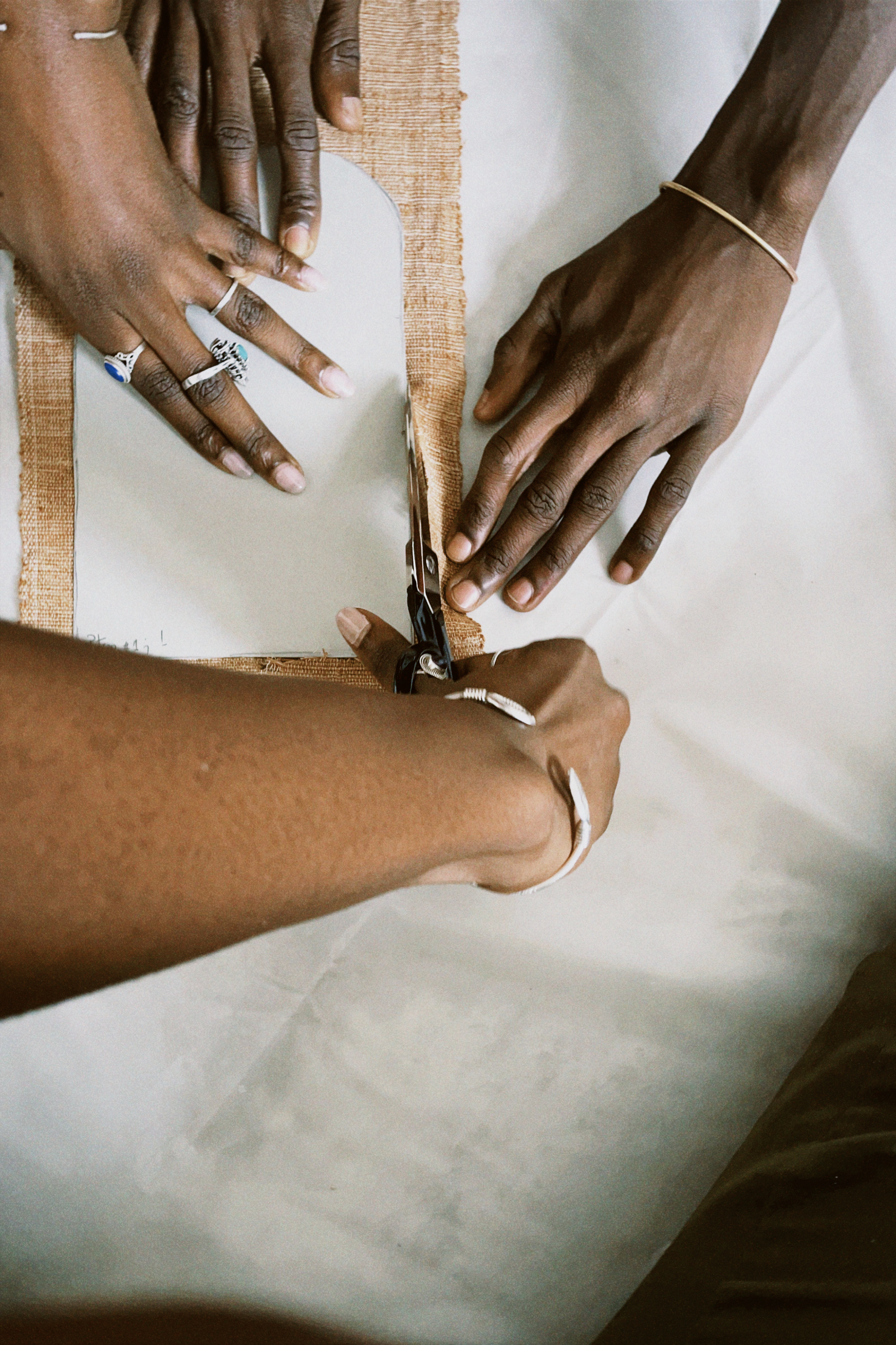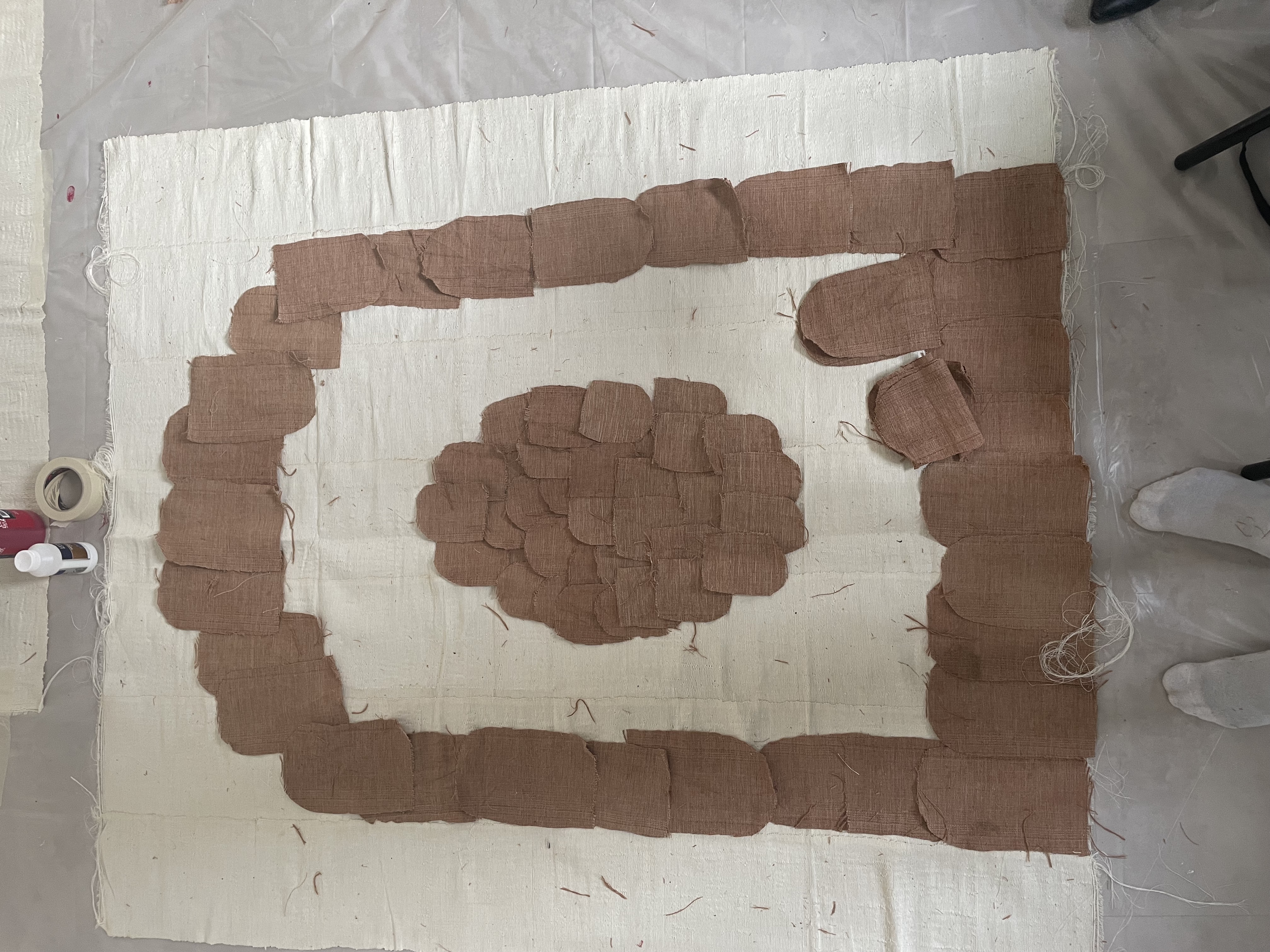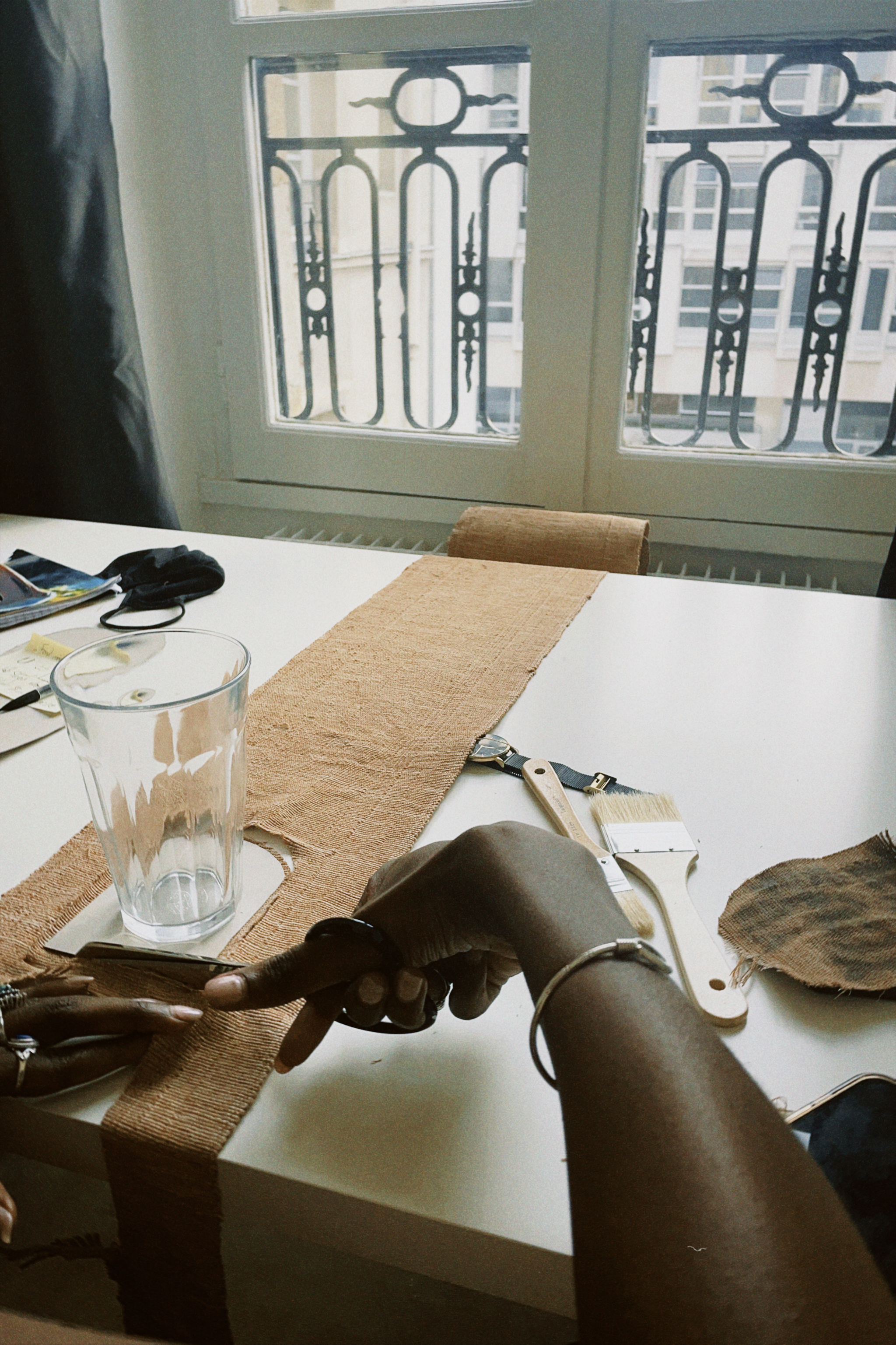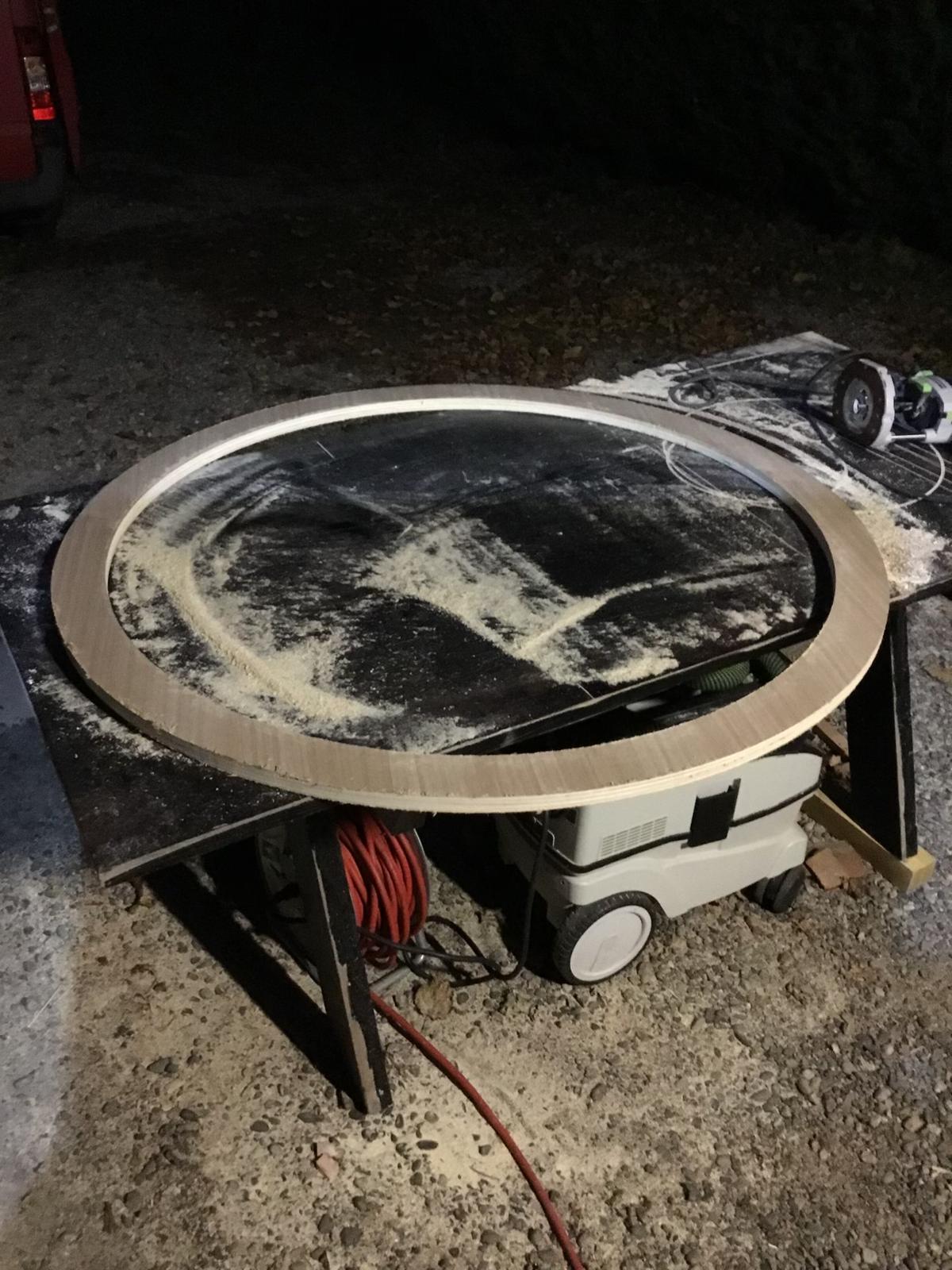 "Leepi jhedi" ( "tissus en coton tissé en sept bandes" en pulaar) place la peinture comme un moyen primaire d'expérimenter et d'appréhender la matière.

L'idée est de se lancer dans une exploration permettant de découvrir le tissu et de créer de nouveaux rapports avec celui-ci. Les dégradés de couleurs rappellent ce voyage d'univers en univers, sans frontière perceptible, ni de temps et d'ordre dans la transition de la couleur.

In this "session", leppi will be our canva. A canva already loaded with its own history. The goal here is to put our nuances, our imaginations and our aspirations without confusing the primary story, what we know of it anyway.